Description
Why We Love This
Power up on laundry day with Member's Mark Power Pacs. These no-mess detergent pacs are formulated for serious stain removal and are safe for any washer.
About this item
Formulated with powerful stain fighters
130 count of laundry detergent pacs
No mess, no measuring
High-efficiency (HE) compatible and safe for all washing machines
Dissolves easily in all water types
Member's Mark™ Ultimate Clean Laundry Detergent Power Pacs (130 ct.) are the next revolution in laundry technology and offers tiny stain-fighting pacs with huge cleaning power. Simply drop one of these laundry cleaners in your washing machine instead of the traditional laundry detergent and see the results after the very first wash.
How Effective is Member's Mark Ultimate Clean Laundry Detergent Power Pacs?
This washing detergent has been specially formulated to fight all kinds of different stains and lift them right out of your clothes. It works great on all kinds of different materials, from denim to cotton and even polyester. You can use it in cold or hot water, making it a versatile detergent you can come back to again and again.
Are Laundry Detergent Pacs More Efficient?
When you measure out your liquid or powdered laundry detergent, you run two risks. First, you may use too little, in which case you waste time, water and detergent to get clothes that aren't even clean. Second, if you use too much then your clothes end up clean, but you run out of detergent must faster then you should. The answer are these incredible laundry detergent packets. With these, you are guaranteed to use the right amount of cleaner every single time and get the most out of your purchase.
Are Member's Mark Ultimate Clean Laundry Detergent Power Pacs Safe for High-Efficiency Washing Machines?
Yes! This type of washing detergent is perfectly compatible with high efficiency (HE) washing machines as well as any other kind of washing machine you may have. Use them in either top-loaded or front-loaded washing machines, they work just as well either way. It doesn't matter where you live either, as they are also just as effective with all different types of water.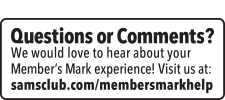 Payment & Security
Your payment information is processed securely. We do not store credit card details nor have access to your credit card information.